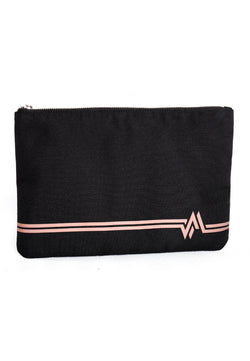 Extra 25% Off | Use Code MYDAY2023
MY Day Biggest Sale | Free Shipping
Extra 25% Off | Use Code MYDAY2023
MY Day Biggest Sale | Free Shipping
Extra 25% Off | Use Code MYDAY2023
MY Day Biggest Sale | Free Shipping
Extra 25% Off | Use Code MYDAY2023
MY Day Biggest Sale | Free Shipping
Extra 25% Off | Use Code MYDAY2023
MY Day Biggest Sale | Free Shipping
LOGOMARK PRINT ZIP POUCH (GOLD)
Editor Notes:
The Ohnii accessories collection has been skillfully designed and made using high-quality materials by world's top-of-the-line factory.
Featured Details:
- Gold Print
- Polished Metal Hardware
- Premium Nylon
- One Interior Zip Pocket
- Comes with Dust Bag
- Imported
Measurement:
- 30cm (L) × 20cm (H)
Free Shipping and Returns
Place your order today and receive it within Peninsular Malaysia: 1-2 working days; East Malaysia: 3-4 working days; Rest of the World: 5-8 working days
Find out more about our delivery options.
If the items don't fit after you have tried out, we'll happily change it for you.
LOGOMARK PRINT ZIP POUCH (GOLD)
Choose a size:
Free Shipping and Returns
Place your order today and receive it within Peninsular Malaysia: 1-2 working days; East Malaysia: 2-4 working days
Buy Online
x
LOGOMARK PRINT ZIP POUCH (GOLD)
Choose a size:
Free Shipping and Returns
Place your order today and receive it within Peninsular Malaysia: 1-2 working days; East Malaysia: 2-4 working days
Buy Online

Please be aware that stock levels are constantly changing and availability cannot be guaranteed
Contact Customer Service