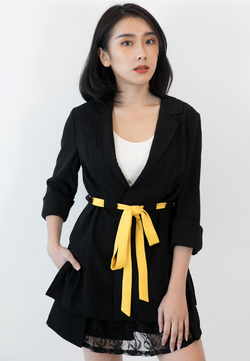 Extra 25% Off | Use Code MYDAY2023
MY Day Biggest Sale | Free Shipping
Extra 25% Off | Use Code MYDAY2023
MY Day Biggest Sale | Free Shipping
Extra 25% Off | Use Code MYDAY2023
MY Day Biggest Sale | Free Shipping
Extra 25% Off | Use Code MYDAY2023
MY Day Biggest Sale | Free Shipping
BLAQUIIN CUSTOMADE SIDE SPLIT WOMEN TAILORED ROBE
EDITORS' NOTES
Specially designed robe with our signature tailored cut and side split detailed. Higher waist line to ensure better body proportion. Combination of yellow and black to increase contrast. 2 colors of choices provided in creating different kind of looks on one garment.
Free Shipping and Returns
Place your order today and receive it within Peninsular Malaysia: 1-2 working days; East Malaysia: 3-4 working days; Rest of the World: 5-8 working days
Model details: 165cm, 43kg, wearing S
Fabrication: 95% polyester with 5% spandex which has high wrinkle resistance and not easily deformed.
Find out more about our delivery options.
If the items don't fit after you have tried out, we'll happily change it for you.

BLAQUIIN CUSTOMADE SIDE SPLIT WOMEN TAILORED ROBE
Choose a size:
Free Shipping and Returns
Place your order today and receive it within Peninsular Malaysia: 1-2 working days; East Malaysia: 2-4 working days
Buy Online
Available in store
OHNII SS15
OHNII SS15 Store
+60149516987
Open today: 10:00 - 20:00
65B, 8A, SS15, 47500 Subang Jaya, Selangor
Available in store
OHNII SS15
OHNII SS15 Store
+60149516987
Open today: 10:00 - 20:00
65B, 8A, SS15, 47500 Subang Jaya, Selangor
Available in store
OHNII SS15
OHNII SS15 Store
+60149516987
Open today: 10:00 - 20:00
65B, 8A, SS15, 47500 Subang Jaya, Selangor
x

BLAQUIIN CUSTOMADE SIDE SPLIT WOMEN TAILORED ROBE
Choose a size:
Free Shipping and Returns
Place your order today and receive it within Peninsular Malaysia: 1-2 working days; East Malaysia: 2-4 working days
Buy Online
Available in store
OHNII SS15
OHNII SS15 Store
+60149516987
Open today: 10:00 - 20:00
65B, 8A, SS15, 47500 Subang Jaya, Selangor
Available in store
OHNII SS15
OHNII SS15 Store
+60149516987
Open today: 10:00 - 20:00
65B, 8A, SS15, 47500 Subang Jaya, Selangor
Available in store
OHNII SS15
OHNII SS15 Store
+60149516987
Open today: 10:00 - 20:00
65B, 8A, SS15, 47500 Subang Jaya, Selangor

Please be aware that stock levels are constantly changing and availability cannot be guaranteed
Contact Customer Service